Certain things never go out of trend. You may be having your style statement, but some wardrobe essentials are a must-have for every woman. With the help of the professionals at Dream Zone Hazratganj, we have created a list of 5 wardrobe essential that you must have, you can mix and match and create your style. These things don't have to cost an arm and a leg, so you can pick up your shopping bag and head to buy these stuffs.
Five Wardrobe Essentials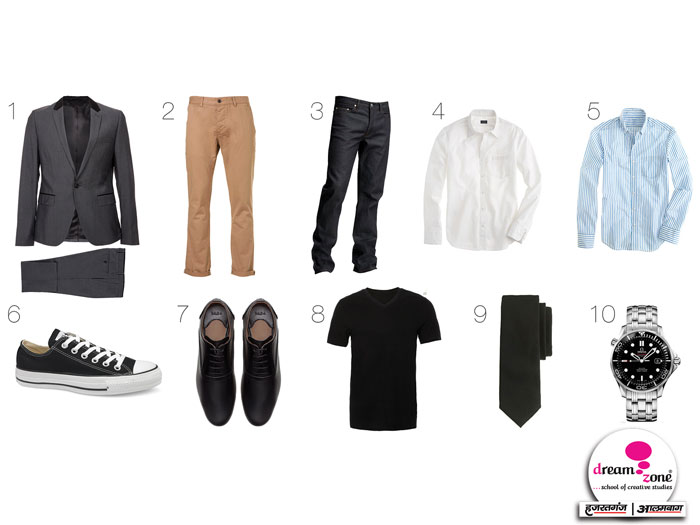 • White t-shirt- A crisp white t-shirt is something that you can team up with jeans, skirts, dungarees. It is a universal colour which can complement any attire. It can be comfortably worn in all seasons, and you can create a number of looks with just one white t-shirt.
• Dark-coloured jeans– Well, light –coloured jeans may look cute, but cannot wear them more often. So, why not invest in buying dark-cloured jeans. You can dress them more often and will effortlessly complement with all the tops. So, you must have them in your wardrobe.
• LBD or the Little Black Dress– If you are fond of wearing dresses, then your wardrobe must have a black dress in it. It is the perfect outfit for a day-out with your girls or a romantic date. The evergreen black will make you stand out of crowd and will surely make you look beautiful.
• Sneak out in Sneakers– These style of shoes look good on all, you can wear them during all season and pair it with your shift dress or jeans. White, black and grey sneakers will be a good choice as these are universal colour and will easily complement your outfit.
• A faux leather jacket– Want to give your outfits an edgy look, why not pair it up with a leather jacket or a faux jacket. Well, our personal preference would be a black leather jacket. You can also choose the tan or brown colour to have a more conservative or vintage look.
With these wardrobe essentials handy, you can figure out a perfect outfit for every day that will make you look stylish and beautiful. These are not very expensive, you can get them from a local store, and if you are in for some heavy shopping, you can have some great choices in various branded stores.
To read more about fashion and latest updates do get in touch with Dream Zone Hazratganj, one of the leading fashion designing courses training centers in Lucknow.