We have a unique interior designing course in Lucknow. There are many jobs for interior designing in today's new world. The whole scope of interior design is also meant to grow, especially in India, which is also a growing market with many job prospects across an extensive range of artistic and creative aspects.
Interior designing is another creative aspect that also shows a higher growth rate given the different facts that this industry is meant to grow and maintain a better trajectory over the upcoming period. There is an enormous scope of interior design jobs, and the scope is doing well. New growth in this field and a good job choice are also meant for the people in this field.
Who Suits this Career the Best?
Lucknow is one of the best interior design institutes in India. Interior design whole work scope involves doing designing work, including apartments and other commercial spaces, then making the design to make a good environment that your clients need.
Thus, people that pick this career need to develop a passion for the field, and they must also have a creative or artistic mind. People in the interior designing field also have strong management skills because a lot of the job scope of an interior designer is made to go hand in hand with the client and the contractor to produce an excellent interior design job.
· People searching for this job in interior designing also need to execute their projects within the proper budget and possess the right knowledge to know if there are proper materials in the market.
· People who have good financial management on their budgets in carrying out their projects and knowledge of different materials are the people who have been given high value in the current interior designing market.
Moreover, having a proper eye for detail and a creative mind will help a long way to help another person become successful in the current industry of interior design.
The whole Scope of Interior Design Course after finishing the Job
The interior designing jobs today are also a lot more competitive compared to ten years ago. With a more substantial need for a proper competent design, there is a higher demand for better interior designers, and other people have also stepped in to meet this requirement.
With a better demand for creative experts in the same field, there are also a lot of different institutes offering different courses in these aspects.
The whole scope of the interior designing course is available in Dream Zone Lucknow, and there is a lot of courses that we offer. Still, we are one of the best institutes that offer many courses that give all our candidates the right skills and tools needed to succeed in this area.
There are a lot of other courses related to interior design that you can wish for, which include a bachelor's degree in interior design, a Diploma level of Interior Design, and a Master's degree in Interior Design. The interior design and the postgraduate diploma in the interior design scope are also quite good. Still, different candidates need to work somewhat hard and fully use the different lessons they will take.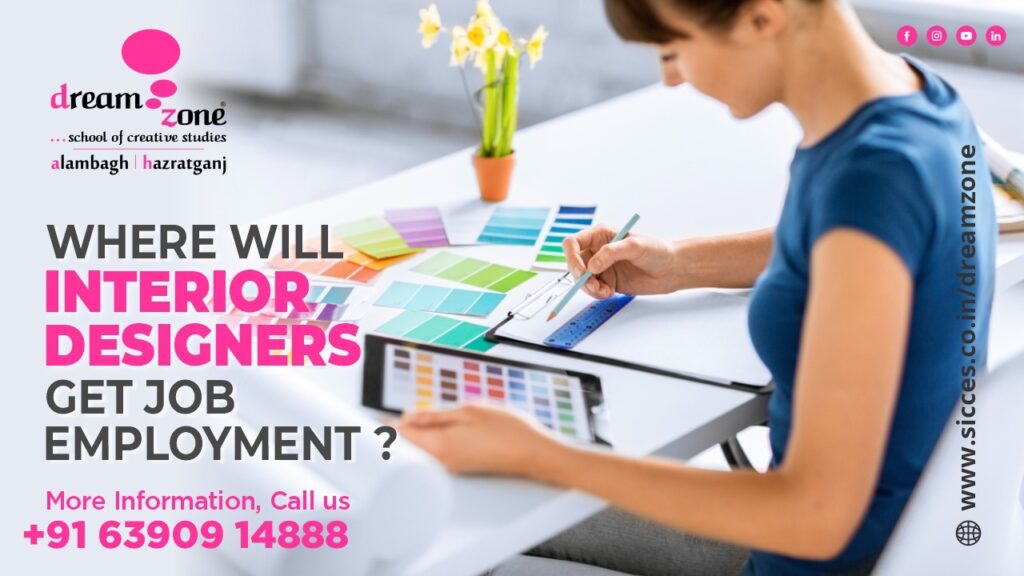 Where will Interior Designers get Job Employment?
There are other areas where people employ interior designs, and the whole scope of the interior designing has many areas that are covered:
According to the Tarang Singhal Centre Head, residential projects include property, flats, and other places used in different domestic properties.
Office Projects: It includes offices and factories among different types of hosts.
Projects That Are for Temporary Exhibitions: There are other projects where interior designers are needed to produce temporary designs. It includes different designs for art galleries, different museums, and other private projects.
Commercial Projects: It means doing designing retail shops, shopping complex, warehouses, or conference centers, made for leisure venues like gyms and cinemas, hospitality sections, which includes hotels, pubs, and cafes and designing in education areas, including universities and schools, and other things in the healthcare sector like health centers, and other private clinic care as well.
Given a large variety of the job scope of an interior design expert, a good and competent worker in this field has access to a sizeable different work variety in this area. However, the industry is also somewhat competitive, and many people are expected to have a lot of other education in addition to getting a degree or another course in interior designing and other practical experience with doing designing and creative interior design work. Dream zone Hazratganj has an experienced faculty as well. We make sure that people do things properly.
The Whole Interior Designer's Scope of Work
Making a proper interior design would need other processes and other aspects to develop a proper interior design that the client can accept.
1. In the initial stage, a good interior designer has a special meeting with the client to know what the client needs and the budget. At the beginning stage, the interior designer will obtain as much data as possible from the client to thoroughly understand what the client needs from us. Our interior designing institute will make sure that there are proper sound communication skills other than information gathering and other business skills.
2. After the interior design has communicated with the client and determined what has to be done with the client's needs and other requirements, the interior designer has to spend some time researching to produce different solutions to solve the client's design needs. During the whole stage, the interior designer will consider things as the planning stages and other building rules and regulations.
3. After completing the research stage, the interior designer will work on the first proposal, which means creating sketches and a proper outline of how the interior designer is meant to utilize the space and the different designs the interior expert has to produce.
4. There has to be a budget cost, and there is the proper timeline to implement the proper designs. The interior designer will pop up the first proposal to the client, and many other brainstormings have to be done.
5. The interior designer has also integrated the feedback from the client, and there are other designs and check up with the former client as well.
Final Verdict
We are the best interior design institute in Lucknow, and we will make sure to provide you with the best training for all your skills, no matter what level you are at. Need interior training skills? Call us for more information now!