Settling with a correct career decision may seem a confusing process at times. The amount of pressure and stress while choosing a single option feels challenging for many! A career option should be such that you feel happy to do it every morning until retirement, which fuels your passion.
If you are someone with a creative vision, choosing graphic design as your career path can be a life-changing decision. There is an ever-increasing demand for graphic designers in today's digital era, for putting forth varied digital designs.
As a graphic designer, you will find more ways to explore your passion for art. You can go on to influence many minds, be it through advertisement alone!
Snippets Of Information About Graphic Design
As a graphic designer, you will have both images and text to work with. These will involve illustrations, photos, typography, and much more, where designers work to make the businesses unique from others. A single impactful logo design made by you can place a business in a much better position than its competitors.
Now, graphic designers mostly need to work in the digital space. All thanks to advanced technology and its inclusion in graphic design, this career option is becoming highly dynamic.
This career option will enable you to join MNCs, or you can become a high-paid freelancer and can join domestic businesses too, and boost their marketing strategy. Let's see what graphic design consists of as a career option.
Skill Sets Required For Graphic Design
Before any degree, you need to have a good idea of visuals in the first place. Because, a visually appealing design attracts everyone, along with imparting its message. With a perfect idea of graphics, colors, and fonts, be creative at your best, to achieve proficiency in this field.
Along with these, you need a Bachelor's degree in Graphic Design or a similar field. You can also opt for a graphics design course to polish your skills so that you can present the best portfolio during any interview!
Also, as a designer of the present times, you need to acquire technical expertise, as you will have to use various applications and tools for efficient work.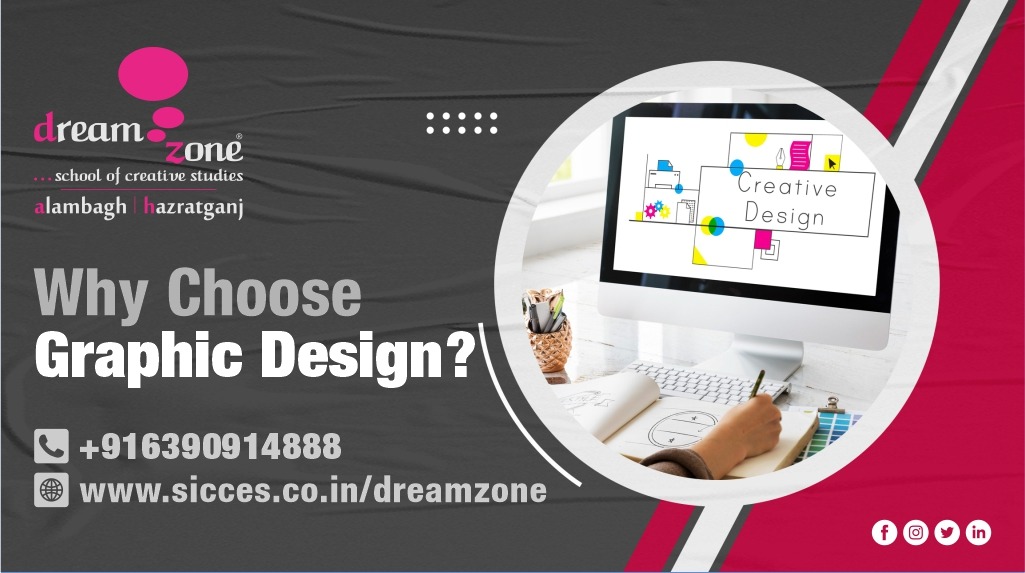 Top Reasons You Should Choose Graphic Design As Your Career Path
Graphic design is an amazing and interesting career option for tons of reasons. We have tried to list the best 7 reasons why you should choose this field.
Your Creativity Pays You:
The prominent skill you need to start graphics design is your creativity. In this job, you will have to apply your creative mind every day. You will have to challenge yourself to be creative at its best. This leads you to express the message through your designs.
The more creative you are, the better you will design for the project you are associated with. Be it a conceptual design, that helps in comprehending your project in a better way, or any other visually appealing design.
Well-Paid Job:
Graphic designers are in high demand at present, so this job is well-paid too! You can freelance your skills along with joining a local firm at the same time, which will enhance your income sources.
Also, you can start with the lowest salary packages, and gradually, with experience and more skill sets, your salary will keep rising as well. And, you will get decent opportunities for self-development in this field.
Your Work Impacts People:
In this job, you have higher chances of working on some good initiatives that can influence countless people. Suppose, you are associated with an advertisement based on social issues. With an efficient design, you will be able to attract everyone's attention, helping to spread the message.
Remote Work:
Nowadays, you can have the freedom of working from any part of the globe in graphic design. Grab your laptop and a sketchpad, and upskill yourself at Photoshop, now you are ready to take remote work and explore the field at your convenience.
With the acceptance of digitalization in every sphere, it is gaining popularity among employers too. This is leading to their approval of their employees for remote work structures, providing them with the freedom to be at their best.
Wide Range Of Opportunities:
Businesses are operating based on appealing visuals that attract their customers. They rely on their designers to convey their messages and story to the world.
Even, charities and government organizations are dependent on graphic designers to spread their message with visuals. Many such giants in the market have separate teams of graphic designers. In this field, you will be filled with different opportunities. You can even manage to lead an agency with marketing skills.
You Are Your Boss:
In your graphic design career, you will have the chance to work independently at your own pace. You can freelance your services or with a proper marketing strategy, you can even turn up your agency, recruiting others!
There are many designers out there, who have launched their brands, with a mix of creative and marketing skills.
Vibrant Work Environment:
Even if graphic designers are working with companies or have a studio of their own, their work environments are fun and vibrant. These creative studios provide the best working space, as the work patterns are flexible and quirky!
In the online space too, you will meet an amazing community of designers, who share experiences, work, suggestions, or feedback. Overall, you will get to work with amazing people and the environment.
Conclusion
One of the most versatile and amazing career options that you can choose in the present context is that of graphics design. Looking at all these top reasons, you may have by now developed the notion of how much can you achieve by being a graphic designer in today's digital age.
For the best graphic design course, you can join Dream Zone, which is a well-known name for its huge variety of courses. By joining this institute, you can get chances to polish your skills and open up a world of opportunities for you!