The first thing that comes to when we dream of a house is the color of the house, it creates the first impression in anyone's mind and so does it creates a significant impact on the mood of people residing in the house.
Thus, the most important task here is to select the right colors for your house. To begin with you must know your colors.
Let's Decorate the Dream Home
If you are not too sure about the kind of colors you want for your home, you can start small. For example, you can use your bathroom or a small area between rooms of any accent wall.
It is imperative to be clear with the look of your house, whether you want it to have a subtle appearance or it should be loud or elegant whatever the case may be, it is the color of the house which defines it.
Like the pieces of the puzzle of placed inappropriately gives a messy and ugly appearance similarly if the colors of the house are not appropriately chosen the house appears outlandish.
We all love to have our house look like a palace, well in a tough time like today's owning an apartment is a big dream.

However, you can transform your own house or an apartment into a mini palace by choosing bright colors like red, yellow and orange which gives a vibrant and earthy feel.
The vibrant colors can be balanced using shades of beige and brown. If you are a lover of modern and contemporary appearance, colors like blue, green and violet should be your first preference.
When the same gets combined with shades like lilacs and grays your house looks no less than any modern home which exudes class and elegance.
We would suggest you go with the neutral tones for large spaces, and the accent walls can be complemented with bright colors.
To sum it up, all I can say is that right colors define your house to strike a proper balance between the bright and the neutral shades to get that perfectly desired look.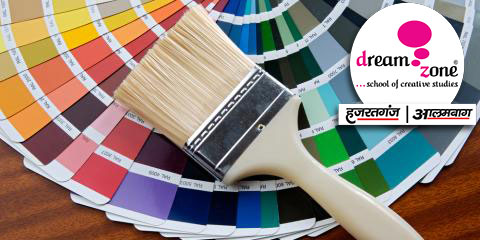 The colors when used appropriately can change the look of your entire house. It not only enhances the beauty of the house but the right combination also influences the ambiance of the house.
Use of bright colours can make your house look more vibrant and full of energy. At the same time, neutral shades can make your room look larger and spacious.
Thus make sure that you choose the right color to make your house bright and beautiful.
We Dream Zone is Top School of Interior Architecture design in Lucknow, you will receive instructions for both traditional & computer based concepts and techniques.
Our preparatory program helps to explore the basics of drawing. We use simple methods to Choose Right Colors of Your Dream Home easily, enabling you to take the next step toward your dream career in fashion & Interior Architecture designing.