Fashion designers are the trendsetters of today's generation. They are responsible for creating innovative designs, patterns, and textures that cater to the latest trends in the fashion world. After the Independence of India, the fashion industry experienced a boom in this country with an increasing number of designers coming up with new design concepts for various products. Work opportunities for fashion designers are rapidly growing, and fresh graduates can easily find job opportunities in this field.
Fashion designers create garments that appeal to both men and women, kids as well as adults. Many fashion designers use the skills learned through formal education at art schools to advance their careers. Fashion designing is an art that requires lots of creativity, imagination, skillful handwork, knowledge about the latest trends in the fashion industry, good communication skills, etc.
There is a growing trend among women towards opting for fashion designing courses after graduation. By going into an interesting field, you will find yourself coming up with new ideas and patterns all the time, which will help your profession grow. People always talk about how it is difficult to find a job right out of college. With so many students graduating every year, it can be hard to get noticed, So Women are now realizing that they can make a career out of something that they truly love. Women are naturally creative in nature, however, it is not an easy task to pursue this career. It requires hard work, dedication, and patience. So if you know that you can fulfill all these things then why not go for it?
Designers are often recognized for their creativity, originality, and excellence in execution, but what are the actual jobs they perform?
Designers are responsible for several steps in the overall process of creating clothing. They work with fabrics, materials, and technologies when they create an item of clothing.
The scope of Fashion Designers in India:
Fashion is a multi-billion dollar industry in India. The fashion industry is growing rapidly every day. Fashion designers in India have a scope of work that is not just limited to designing and clothing production. Fashion designers work in a range of industries, including textile design, apparel manufacturing, and fashion retailing. Designing clothes is not everyone's cup of tea. The profession requires lots of patience, attention to detail, creativity, and passion for the work.
The Average Income of a fashion designer in India is Rs, 5,25,720 INR per annum. The fashion industry not only offers employment opportunities but also ensures success to those who are willing to work hard. Designing clothes requires specific skills and knowledge, which are acquired through formal training or on-the-job experience or by learning a fashion designing course.
Career opportunities for Women in the fashion designing industry in India:
According to the statistics, 88% of the fashion designers in India are Female and 12% are male.
Some of the famous Women fashion designers are Ritu Kumar, Anita Dongre, Ritu Beri, Anaita Shroff, Anamika Khanna, and many more.
You can become one of them as well. Here are some career opportunities in the Fashion Designing Industry:
Fashion Journalist
Pattern Maker
Fashion Designer
Fashion Editor
Fashion Stylist
Brand Manager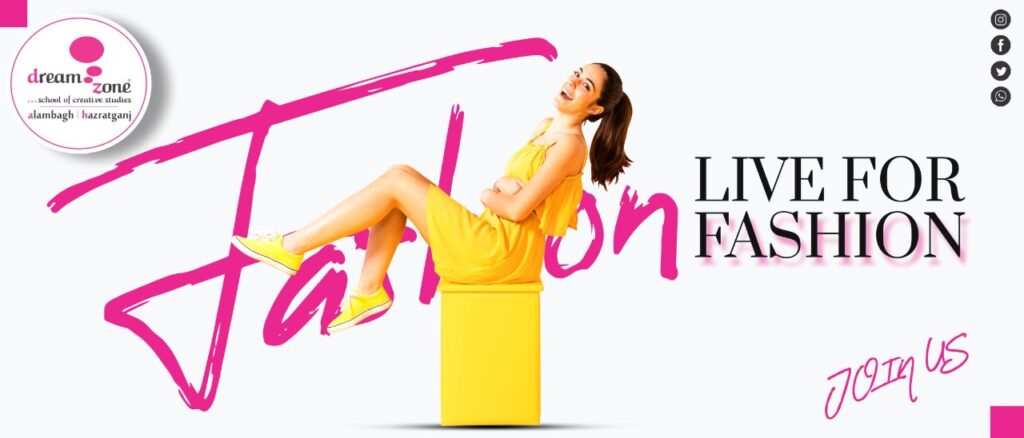 Best fashion designing courses in Lucknow to become a fashion designer
Completing an appropriate Fashion Designing course is an extremely vital and crucial step in the journey to becoming a fashion designer for any fashion design aspirant. Many undergraduate, postgraduate, diploma and certificate programs in fashion design are accessible at the country's premier design institutes.
Tarang Singhal center heard of Dreamzone, Hazratganj, Lucknow has a view that these fashion designing courses are suggested for all graduates with an eye for creativity and flair for designing.
DreamZone is one of the leading institutes providing certification courses in fashion designing, providing placement and internship opportunities to its students.
Master Diploma in Fashion Designing:
This course preps up a student to become a master in the Fashion Industry and gives the aspirants the added edge to accelerate through their career path.
Course duration: 600 hrs
Professional in Fashion Design:
The program focuses on all core fashion designing modules like sketching, pattern making, garment construction, draping, and embroidery.
Course duration: 360 hrs
The fashion industry is a global business valued at more than $1 trillion in annual revenue. It's no surprise that India, the world's second-largest country by population, is home to some of the most talented designers in the industry.
Fashion designing is one of the most popular career choices among females. Fashion Designers must be constantly aware of what's fashionable and what's not. In order to stand out from the competition, you need to have a solid knowledge of current fashion trends. If you are interested to enroll in fashion designing courses in Lucknow, our online fashion designing courses will prove to be an excellent choice in your career. Visit our website today to discover more about how to become a Fashion Designer!