Are you creative with a flair for the latest fashion trends? Do you love to sketch clothes, go through fashion magazines or simply design clothes for yourself and your friends? Well, the most exciting career opens its door for you. A career in Fashion Designing is by far the most exciting career option in recent times. With the rising consciousness of trendy clothes and accessories, fashion designers are certainly in demand. This industry has been growing at a fast pace, thereby, creating more opportunities for Fashion designers, Makeup Artists, Stylists, Consultants, and Fashion Designing Teachers.
The career opportunity for a Fashion Designer is very vast. One can choose to work with a reputed fashion house, a textile company, start your venture, be a blogger/consultant or be a trainer for a fashion designing course. Not everyone requires a professional degree to be a fashion designer. However, only the ones with an exceptional flair for fashion can skip their degree. A fashion designing course certainly helps one in building a successful career in the field.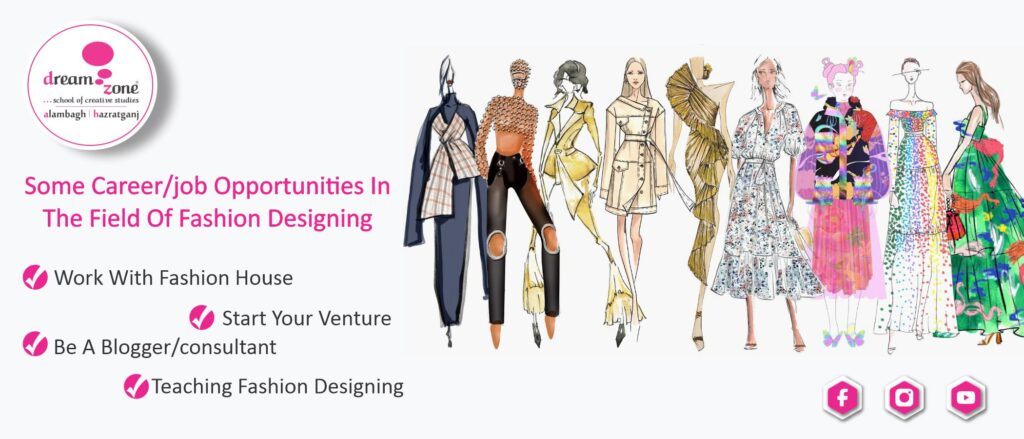 Let us take a look at some career/job opportunities in the field of fashion designing:
Work with Fashion House: With a beeline of reputed designers coming up with personalized labels and brands, fashion wear is in most demand. To look vogue is the latest trend, with a large market segment for the middle class, upper-middle-class, and higher class. Encashing on this, a fashion designer can choose to work with a fashion house of his or her choice and gain relevant experience. Taking up a job in a fashion house enables you to gain experience with a professional approach. The fashion designing course will aid you in computer-aided designing (CAD), which is a prerequisite for all fashion houses.
Start Your Venture: If you have gained relevant experience in fashion designing, it can be a good opportunity to start your venture. A good network certainly helps in building up a business. Initially, the growth might be slow but in the long-run, has scope for exponential growth. However, the infrastructural and manpower cost should be taken well into consideration. Your venture gives you the chance to create your brand.
Be A Blogger/Consultant: With increased internet users, more and more people are opting for fashion ideas online. In this respect, a blogger has a great chance of making himself/herself a personal brand. Also, as a consultant or freelancer one can be associated with manufacturing units, fashion houses, wholesalers, merchandisers, etc to help them design or choose the right garments fabrics and accessories.
Teaching Fashion Designing: One good career option in fashion designing that is overlooked is being attached to an institute that imparts training as a teacher. Being a fashion designing teacher is a noble profession where one gets to work in a comfortable environment. It is enriching to impart fashion designing training with a decent pay package to take home.
Apart from the glitz and glamour that the world of fashion has to offer, the job of a fashion designer is to keep oneself updated on the latest trends. It is about deconstructing different looks and making the right one. This career option gives you a perfect platform to explore creativity and craft. With the advancement of technology, there has been an amalgamation of fashion with tech. Now a little bit of technical expertise along with creativity goes a long way in shaping up a successful fashion designer career. The course also helps you in learning workplace etiquette, meeting deadlines, understanding merchandising, and working with budget constraints, handling trained and untrained workers, etc.
To ensure that your fashion designing career picks up at a fast pace, it is important to make an extensive and creative portfolio. Your portfolio is an important tool to start your career in fashion designing. The competition for fashion designers is high and hence one needs to be exceptional at work. However, a good fashion designing course helps you overcome your limitations and challenges with proper guidance. It makes you apt with the required skills and portfolio to be job-ready.
The opportunities for a fashion designer are endless. One can continuously hone and develop skills to maybe start one's venture or work with his/her dream brand. The career option is non-gender-specific, giving equal opportunities to males and females. For those who love to travel, this career also provides an opportunity to travel to places for work. It is important to choose the right course after careful research to jet set your career at the right place.